DAUGHTER OF THE VALLEY
I am a proud daughter of the San Fernando Valley. At 46 years old, I look back at the four decades of valley life that made me who I am today. My family moved here when I was 6 and my father owned a small auto repair shop in Reseda. From a young age in a struggling family, I had the desire to make a difference, and was determined to reach my goals.
I attended Kennedy High School in Granada Hills and often joke that I've been a student at nearly every college in the district – from Mission to Pierce to CSUN – where I earned a Bachelor's Degree in Business Administration and Real Estate, becoming the first person in my immediate family to earn a college degree.
While working my way through college, I often worked late nights at numerous jobs – medical transcriber, waitress, line cook, personal chef, marketing assistant, office administrator – the list goes on. I kept up with studies on long bus rides between home, work and school.  I persisted, and later went on to receive a Master's Degree from the USC School of Policy, Planning and Development, with a concentration in Economic Development.
---
DEEP PROFESSIONAL ROOTS IN THE VALLEY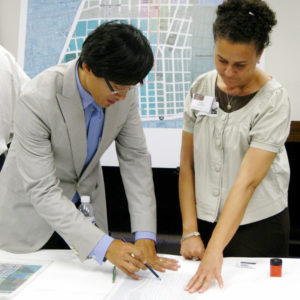 My professional career has been largely centered around the valley as well.  As the Economic Development Director for L.A. City Councilmember Bob Blumenfield, I work on Warner Center issues, Reseda revitalization, and other local projects that create jobs and increase economic opportunities.
Prior to this, as a Planning Associate at the firm of Rosenheim & Associates in Woodland Hills, I worked with the Community Action Committee to finalize the Warner Center 2035 Specific Plan, a unique urban planning blueprint intended to spur job growth and economic development in numerous sectors, including tech, clean and green industries.  I've also worked on Downtown L.A. redevelopment issues as a planning deputy for L.A. City Councilmember José Huizar and worked for environmental protection as a staff member of the League of Conservation Voters.
---
RIGHT FOR OUR COMMUNITIES – RIGHT FOR SACRAMENTO
I have strong relationships with leaders of homeowners associations, neighborhood councils, residents and the business community in the district and have extensive experience working collaboratively with our valley communities. I know and understand the needs and concerns of the varied and unique neighborhoods that comprise AD45. I understand not one size fits all.
I also know what hard work means. My deep, local roots and purposeful determination, give me a unique perspective on the needs of working women, men and families in the district — combined with the drive and tenacity we need from our state leaders to get things done in challenging times.
---
SENSIBLE AND BENEFICIAL PUBLIC POLICIES
I have a strong background in planning, housing and transportation – the three-legged stool that leads to strong, safe and well-rounded communities with strong business cores.
As a member of the State Assembly, I will focus on jobs and economic opportunity. I look forward to ensuring the overhaul of the California state healthcare system is of benefit to us all.  I believe in equality and that every Californian should have the best chance possible to achieve their dreams.  And, with an eye to the future, we must support affordable, attainable education for children and adults.
---
CHANGING THE CULTURE IN SACRAMENTO
Last but certainly not least, it's no secret the culture in Sacramento must be overhauled.
The special election for this seat on April 3 is being held because of the resignation of our former local Assembly representative who was accused of sexual harassment. That makes this district ground-zero in the effort to change the culture in Sacramento.
What's new in recent months is not that there is harassment and bullying in politics, government, the entertainment industry and other parts of society, but that it has been exposed to the light of day.  I have a firm commitment to ensuring our state Capitol can be a place of pride for elected officials and those who elected them.
---
Assembly District 45 is my home, and a very special place for all of us. I welcome your support to make AD45 and California the very best it can be, for today and for the future.
– Tricia
---